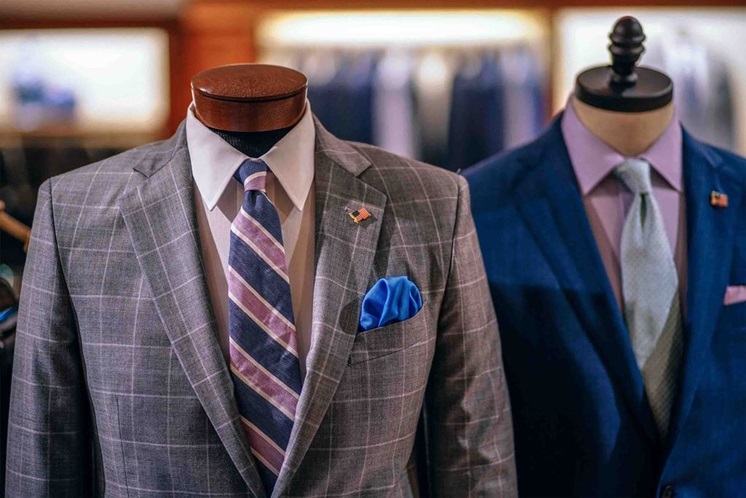 Dressing up well for an occasion requires a perfect look. The market or your wardrobe is full of shirts to choose from that go well with your suit. A right suit combination is always a tough choice to make.  This blog is sure to leave you with insights and ideas on how to match a suit with your shirt.
Dress right for the occasion as they say. You might be confused as to which shirt makes the best match for a suit. Follow these guidelines while selecting a shirt to match the best with your suit.
Mono-coloured shirts
Colour is what the eyes behold. Consider wearing a single colour solid shirt with the suit for a formal look. However, a shirt with stripes, plaid or multiple colours goes best for casual looks.
Don't match the suit jacket colour with the shirt
The same colour for the suit jacket and the dress shirt will create a not so pleasant appearance. Avoid wearing the same coloured shirt as that of your suit coat. Imagine how a black shirt and a black suit jacket look like would!
Choose a lighter or contrasting shirt tone
What to wear if not the same colour? Choosing a shirt which is either lighter in colour or contrasting in colour from that of the jacket would look good. For a navy blue jacket suit, a light blue shirt would look the best as a thumb rule. Similarly, for contrast, a white shirt matches best with a black suit jacket to give a sophisticated and complete look.
Collar fitting
Collar fitting is essential too. A shirt might fit you well, but the collar might either be too large or too small to cover your neck. Make sure your shirt collar is fitting perfectly too.
Buttons play a role too
Buttons can make or mar the grace of a shirt. Cheap plastic buttons reflect the quality of the shirt. Buttons should be seamlessly designed. Take a careful look if the buttons are properly threaded to the shirt, or if the buttons are hanging loose?
Fabric
The fabric, of course, decides the look and feel of your shirt. Cotton is the most comfortable and most widely used fabric for casual and formal shirts. Cotton shirts are light-weight, comfortable and easy to maintain. Linen is another popular material being lighter and thinner than cotton. Linen is perfect for summers but is a little more expensive than the age-old cotton.
The complete fit
Of course, a perfectly fitting shirt is all that you are looking for. Although, a major portion of the shirt is hidden by the suit jacket; an over or undersized shirt can spoil the look. A perfect-fitting shirt will snug against your body without squeezing together at the torso. The length should also be long enough to be tucked inside your trouser.
With these tips on how to match a suit with your shirt, you will be confident in buying one when at the shop. Go ahead, buy the best combination, and look awesome.