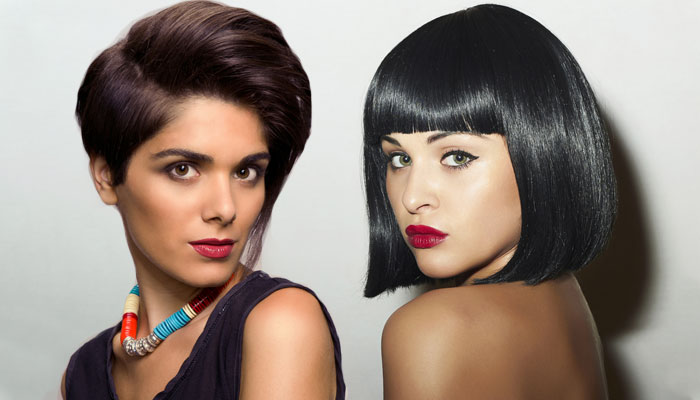 Though there are present various styles of haircuts, hair stylists use some fundamentals for creating them. Some popular haircuts that suit women are:
Bob – This is also known as a zero-degree haircut. For doing this haircut, the hair must be sectioned into four various sections utilizing the hair clips. In the next step, a guide section is created by combing a part. The blunt part is kept parallel to the floor.
Butterfly Haircut – This haircut gives women the option to have shorter hair in front of their faces.
Air Bangs – Air bands are one of the popular haircuts for women. These air bangs tend to be wispy and fine, and they are cut intentionally on the finer part. This is the reason a woman's forehead peeps through.
Octopus Haircut – This haircut is named Octopus as the cut is round, and this style has huge similarities to shag.
The Power Bob – This haircut has become popular because of the HBO show. For replicating this style, you must keep the length of your hair below or at the chin.
Sideswept Pixie – When you opt for this haircut, you can make your hair shorter on the sides and length on the top. 
The importance of hair coloring
Hair coloring seems to be the easiest mode to change your appearance. When you want to get your desired results in a haircut, you must get your hair dyed by an expert colorist you can get your desired results. As the best hair salons spent many years mastering color theory and hair coloring science, they can do this job very well. The hair stylists who are employed here are aware of the shade of blonde that works the best with a person's skin tone. Again, they also understand the method to perform color correction well. So no matter whether you wish to get a fantasy or natural color, you can trust these salons' team.
Importance of choosing ideal hairstyles
Some reasons for which women select appropriate hairstyles are:
To improve their beauty and personality – Most women choose a good hairstyle to improve their personality and looks. They do not want to settle for ordinary hairstyles as they can easily enhance their look by experimenting with various hairstyles.
Match well with their face cutting – Women want to embrace hairstyles that match well with the shape of their face or face cutting. Most of the time, the hairstyles of women do not match well with their faces, and this makes them look weird. This is the reason; women research well and select a hairstyle that goes well with their face cutting.
Match their lifestyle – Women also opt for a hairstyle that matches well with their lifestyle. The correct hairstyle helps women in becoming successful in their respective careers. Hairstyles help celebrities, including sportspeople, rock stars, actors, etc.
Experiment – At times, women just wish to experiment with their hairstyles which is why they opt for different hairstyles. They choose one among various haircuts for women and alter their look. However, for this, proper research is a must, particularly when a woman goes out of her house regularly.
Free hand hairstyles refer to hairdos created using artistic and spontaneous techniques, such as free-form cutting or textured styling, that result in unique and personalized looks, perfect for those who crave a more natural and effortless appearance.