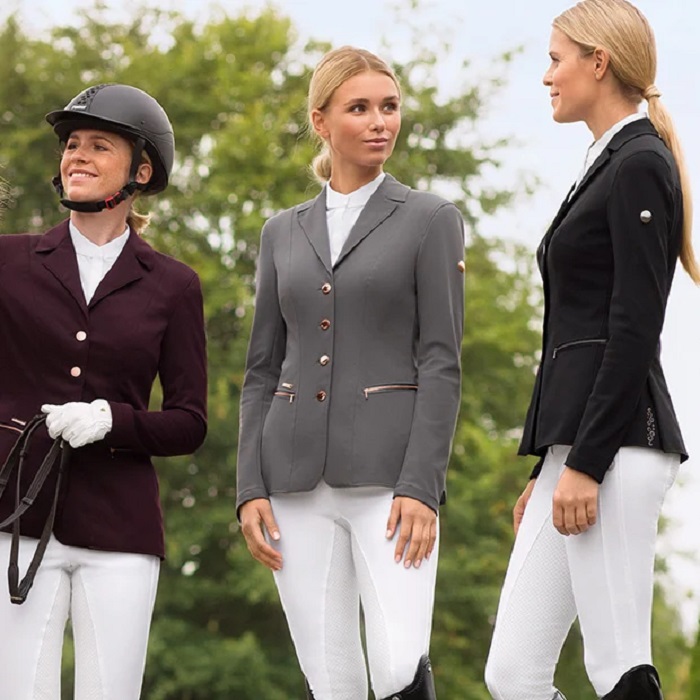 Most people can picture an equestrian rider sitting straight up on a horse and running through obstacles in a packed-dirt ring. What you may not know, however, is all the clothes riders wear during a competition or even at practice serve a purpose. There are many parts to an equestrian's ensemble, each as important as the last, and if you're interested in riding horses in this capacity, you'll need to invest in a few items first.
Pants
The first item of riding clothes you may not think about is pants. Riding pants are designed to help people be more comfortable and stay more secure in the saddle while on a horse. They come in a variety of styles, which offer suede or leather reinforcement in different places. Some have patches of the extra material in the knees, some have them in the knee and up the thigh, and some cover all way up to the seat of the pants. Your comfort on a horse and the type of riding you do can help you determine which type of pants will suit you best. If you're participating in a formal event such a dressage, then a certain length and type of pant is often required.
Boots
You'll notice most riders typically wear boots that cover at least half of their calf, such as cowboy boots. This is because it's the most effective footwear when riding and being around horses because they protect your feet and ankles from any type of injury. With boots can come blisters, though, so investing in some boot length socks is a good idea to avoid uncomfortable situations. Although most casual riders might opt for a casual boot, in dressage riders typically wear something more formal: a black or navy, knee-length boot.
Helmet
As much as someone loves their horse, it's still an independent animal that can be spooked or upset into unpredictable behavior. This is why a riding helmet is necessary any time someone gets on a horse. It protects the rider in case of falls from the horse, or if it takes off running into some trees with low-hanging branches. The style of helmet varies with the type of riding, but perhaps the most recognized ones are for formal events—the black domes that sit low on a rider's brow.
Riding horses requires more equipment than people might think, but these three items are crucial to your comfort and safety when you hop on a steed.