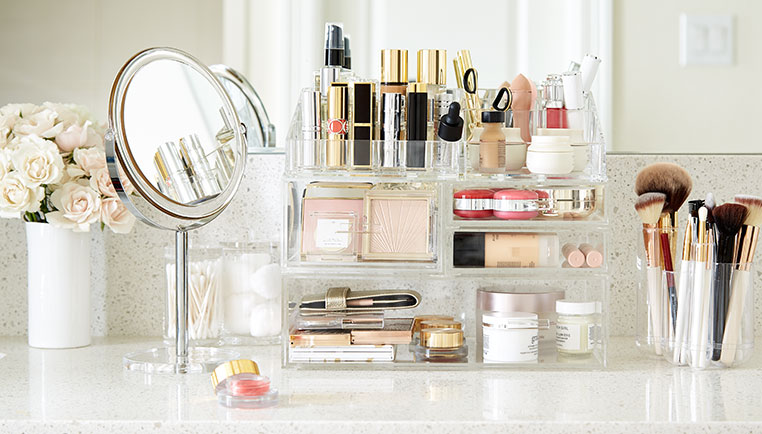 If you are someone that likes to take your time getting ready in the morning or for a night out, you probably have a vanity full of hair and makeup products. These products can quickly get out of control if you don't have an organizational system. We've collected some organizational tips that will help you keep things tidy and make it easy to find everything you need.
Drawer Organizers
The most annoying thing that can happen when you are getting ready to go out is to open a drawer in your vanity and find it a jumbled mess. Whether you keep jewelry or makeup in the drawer, you want it to be organized and easy to navigate. Invest in some organizers or jewelry drawer dividers to keep your belonging neat and tidy. This will also protect your jewelry from getting lost or damaged.
Display Pretty Things
If your vanity table is in your bedroom, you want to treat it as a piece of decorative furniture, not a spot to dump everything. Use the drawers to store away all your makeup and styling products and keep out the pretty things, like perfume bottles. Another fun design you can do if you have a lot of nail polish bottles is to display them in a rainbow pattern on floating shelves. The idea is to make the table something pleasing to look at.
Trays and Canisters
If your vanity doesn't have a lot of drawers and you are forced to keep more things on top, purchase trays and canisters to keep your beauty tools organized. Cups and canisters are great for long items, like hair and makeup brushes. Trays can be used as a catch-all for little things, like manicure tools. You can buy purpose-built organizers or repurpose jars and containers you like.
Separate Toiletries and Makeup
If your vanity is in your bathroom, you might not want to keep all your beauty products stored there. Makeup generally doesn't respond well to humidity and the bathroom is the most humid place in your home. Keep your toiletries in your bathroom for easy access and your makeup in another room. You can keep it in a carrying container that you can bring in when doing your makeup. This will prolong the life of your cosmetics and save you money in the long run.
You've invested time and money collecting nice makeup and jewelry and you need to be able to access it easily. These tips will help streamline your beauty routine, getting you on your way faster.